5 reasons why you should be watching sports on a big screen TV
Are you an avid sports fan? Do you watch your favourite sports teams religiously? Perhaps you only watch the playoffs and championships? No matter the level of fan you consider yourself, watching sports on a big screen TV makes a world of difference. 
It's no secret now that the 'Big Screen is KING' for the sports fan. According to a report by Statista, over 67.5 million TVs with a 50-59 inch display were shipped worldwide in 2020. We are seeing big screen TVs rising in popularity year over year and here's why:
Exhilarating sports action 
When watching the big game with your friends and family, having a big screen TV has so many benefits. Even for your last guest who missed their chance at a spot on the couch, they'll still have a great view of the game. The picture perfect quality of the big screen TVs available on the market today will have you so immersed, you'll feel like you're watching from behind the team's bench. 
Room size vs TV size
Before we had the TVs of today, a small room used to limit you to a small TV. If you sat too close to a large screen, the picture would look out of focus and pixelated. Room size does not determine the size of TV you can purchase anymore. One of the most coveted features of a TV for a sports fan is high definition. Thanks to advanced technology, we have big screen TVs with incredibly crisp picture quality. Within reason, you can have a king-size TV in a small room without forfeiting the viewer experience.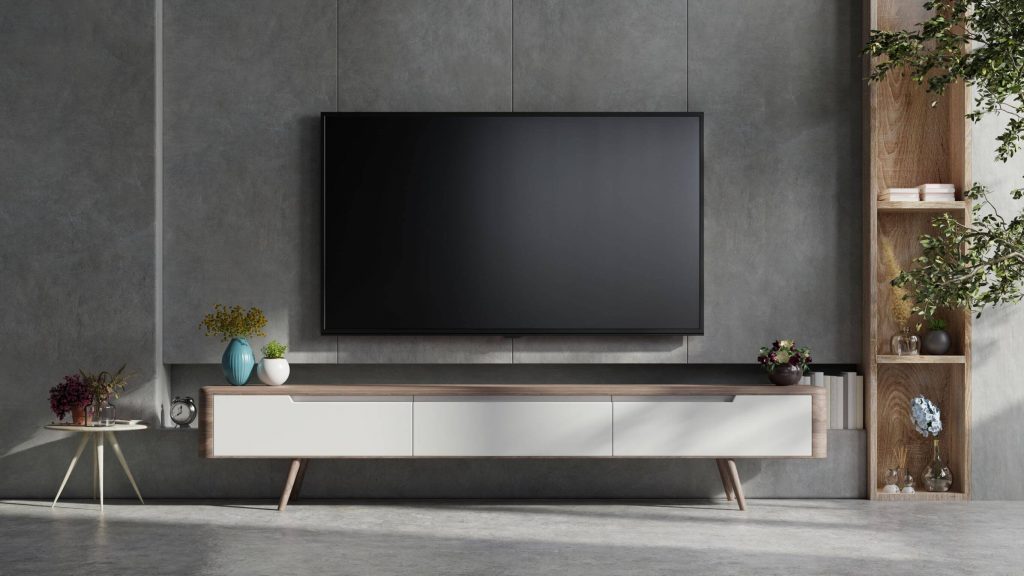 Light-weight and thin = Save space and optimize safety
Until fairly recently, TV sets used to be incredibly heavy and thick, nearly impossible to move on your own. This caused safety concerns in the home for pets, children and the elderly. Thanks to today's technology, big screen TVs have become incredibly light-weight and thin. Even some of the largest screen TVs can now be wall-mounted to save space and protect our loved ones and furry friends. 
Crystal clear picture
To expand on the notion of picture quality, there are some best practices to keep in mind. Whether you have a 4K, 8K, OLED or QLED TV, the recommended viewing distances have drastically changed. You will see brilliant quality when you are 2.3 metres away from 75" TVs, 2.7 meters back from 85" TVs and 3.2 metres from huge 100" TVs. For reference, 3.2m is only the size of the average swimming pool diving board. Big screen TVs have allowed those with limited living space to optimize their sports viewing experience. 
Affordability 
The big screen TV market is a competitive space allowing consumers to reap the benefits of suppliers striving for the best priced products. Along with low costs, great deals on big screen TVs are plenty. As a sports enthusiast, you shouldn't have to limit yourself to a small TV. Get the most out of your sports viewing experience with a big screen TV. 
Now, thanks to modern technology, many big screen TV's make the viewing experience more enjoyable and affordable! C3 offers pure entertainment with a variety of TV packages for you to choose from, because at C3 we know sometimes the best way to watch sports is on your favourite sports channel in your living room, with a few friends on your TV. 
Witnessing great sporting moments starts with a great TV package. Click here to preview our current TV offerings or contact a C3 business sales representative.
Considering TV for your Business? Check out our article on the benefits of TV in business to learn more.