What is micro-trenching and what are the benefits?
One of the biggest barriers for bringing broadband to new locations is the cost of laying fibre. As demands for high-speed internet connections increase for both homes and businesses, new methods of fibre optic installation in congested areas are needed that are less disruptive, less costly and more convenient. The most important method, and one growing in popularity is 'micro-trenching'. Although micro-trenching is not new, it is further driving innovation and interest in fibre optic technology.
What is micro-trenching?
Micro-trenching is an installation method and fibre-laying technique where a micro-trenching machine is used to install fiber optics cable or conduit by digging a narrow and shallow trench on the side of the road beside the curb and tarmac. Traditional fibre-laying procedures require heavy machinery, large trenches and considerable amounts of labour. 
The benefits of micro-trenching
In 2013, New York City introduced micro-trenching to minimize traffic and environmental impact. The results of the project suggest that this method is an effective means to expand broadband activity in busy locations. The project expanded and improved NYC's fibre optic broadband access. Micro-trenching promoted quick deployment with minimal disruption to roadway traffic and public utility infrastructure. Most of all, it was far more cost-effective than traditional methods of fibre-laying.
Although New York City is larger in scale and population than Cayman, the benefits are no less practical and essential.
Micro-trenching costs less per foot than other fibre optic installation methods. As the trenches to cut are tiny and narrow, there is less labour involved. The micro-trenching equipment reduces the initial capital costs of construction as the costs of cutting the trench are quite low compared to other methods. The installation costs are less as the minimal cutting width helps to reduce the amount of backfill grout needed to fill the trench. Finally, micro-trenching helps save on restoration costs since a vacuum system connected to the cutting wheel attachment cleanly removes any debris.
In many cases, installing fibre optic cables must be done in an environment where the jobsite has limited space. The use of larger machinery in this case would prove to be a challenge. These areas make it difficult to dig larger trenches that are common with traditional methods  Micro-trenching provides an innovative solution to these environmental challenges as the machinery used is more compact and the trenches required are significantly smaller.
The large machinery and massive trenches of traditional methods would cause huge traffic jams and interfere with the surrounding environment in Cayman. We sure don't need that with traffic on the island already increasing. Moreover, the shallow depth of the trenches will ensure there is avoidance of interfering with existing utilities. Micro-trenching allows for minimal public disruption during installation.
In another effort to minimize disruption, the vacuum system that attaches to the cutting wheel helps keep waste to a minimum. Traditional methods of installation produce large amounts of debris that can be swept away and interfere with the surrounding environment. Being able to keep the jobsite clean will help keep Cayman looking its very best.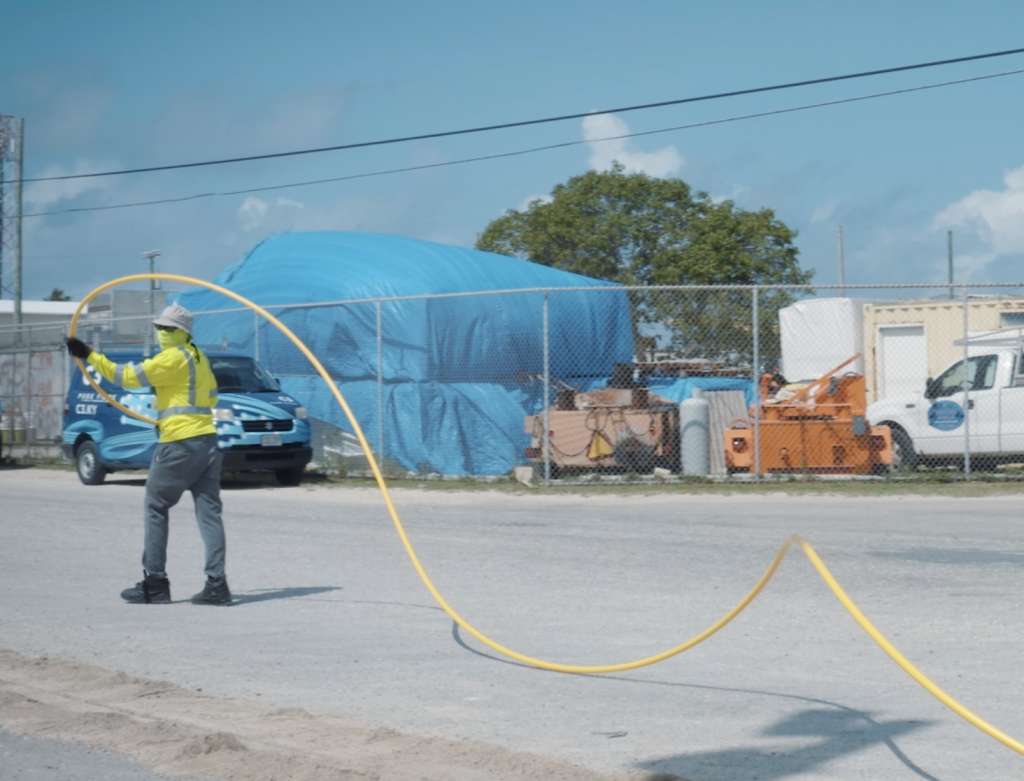 As C3 Pure Fibre expands across The Island we strive to make use of  micro-trenching wherever possible. We believe the benefits prove that it should be considered as a requirement of any major fibre optic network optimization plan.

If you found this article interesting, consider checking out our article that discusses the benefits of a fibre optic network.

Chat to a C3 representative to learn more by emailing info@c3.ky or calling 333-3333