How smart is your home?
Our homes are becoming smarter than ever before in today's fast-paced society. Technology has changed the way we live, from controlling lights and thermostats with our smartphones to securing our properties with modern cameras. If you're wondering about how smart your home can become, we invite you to explore the world of smart homes and see how Plume HomePass could improve your connected living experience.
Although the notion of a smart home is not new, the technology that powers these intelligent living spaces has advanced significantly in recent years. Connected devices and automation are used in smart homes to streamline daily tasks, boost security, and create more comfortable living conditions. From voice-activated virtual assistants like Amazon's Alexa to smart climate control systems that maximise energy efficiency, the options are virtually limitless.
What makes a home 'smart'
Connected Devices:
Smart houses have connected speakers, thermostats, lighting, doorbells, and cameras. Smartphone apps can control or automate these.
Automation:
Smart homes revolve around automation. Devices integrate with habits and schedules. Lights may dim during films, and thermostats can adjust to your tastes and occupancy.
Enhanced Security:
Motion sensors, video doorbells, and remote monitoring improve security. You can interact with visitors and receive real-time warnings while abroad.
Energy Efficiency:
Smart thermostats and lighting optimise energy use based on occupancy and time of day. This saves money and is green.
Voice Control:
Amazon Alexa and Google Assistant allow hands-free gadget control. Control lights, music, and weather using voice commands.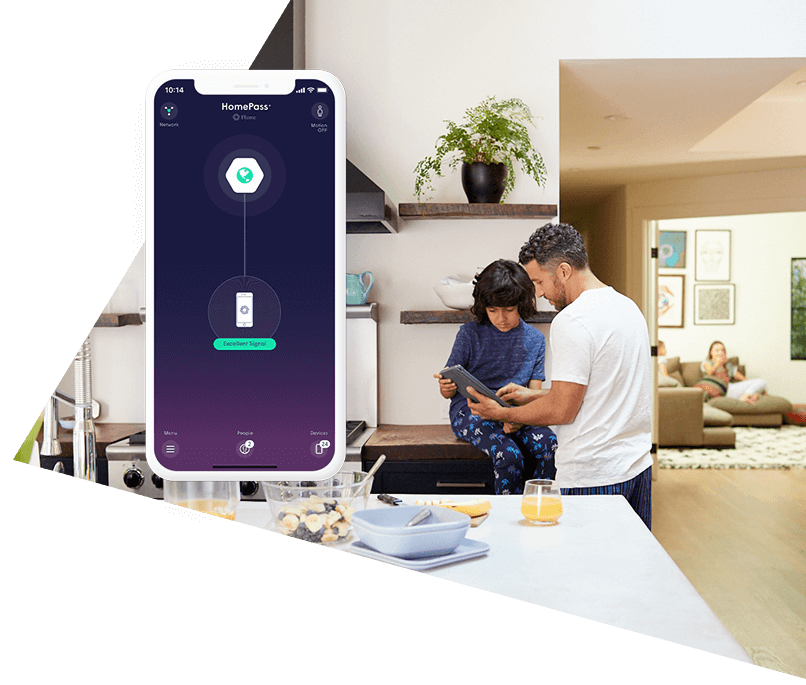 Now that we understand what makes a house smart, let's take a look at Plume HomePass and see how it may improve the connected living experience.
Plume is a prominent developer of smart home services, and HomePass is one of their main products. It's a whole-home Wi-Fi solution designed to improve network performance while providing a strong and dependable signal in every room of your home.
Here are some of the main advantages of Plume HomePass:
Adaptive Wi-Fi:
Plume HomePass adapts to your specific demands using AI-driven technologies. It constantly optimises your Wi-Fi network to ensure that devices are always connected to the fastest and most reliable signal. Plume has you covered whether you're watching HD videos in the living room or working from a home office upstairs.
Guest Access:
With Plume, you can set up a separate network for your guests, preventing them from accessing your personal devices or data. This keeps your network secure while also accommodating your guests.
Parental Controls:
Plume HomePass makes it simple to set up parental controls. You may control internet access for individual devices and even pause internet access for specific users or devices during certain hours.
Security: 
Plume is a first class tool for online security. It provides real-time threat protection, protecting your network from cyber attacks and malware. Your smart home devices are still secure.
Our homes will become even smarter as technology advances. Homes will become more intuitive, energy-efficient, and secure with the integration of artificial intelligence, machine learning, and the Internet of Things (IoT).
So, the question isn't whether your home should be smart but rather how smart you want to make it. With innovative solutions like Plume HomePass, there seems to be endless possibilities. Embrace the future of connected living and make your home smarter, more efficient and more secure. 
Visit this page to read about how C3 Pure Fibre can help make your smart home dreams come true. Contact a C3 representative to learn more at info@c3.ky or call 333-3333.