Services that will ensure a happy holiday season
C3 is proud to carry products that help you enjoy the holidays with family and friends. Whether your loved ones are near or far, we have you covered this holiday season. C3 Pure Fibre is here to serve you with a wide selection of fibre optic-based services including high-speed WiFi internet, TV, and home phone.
Our services help ensure your holiday plans with family and friends are flawless
Hop on a phone or video call with your device 
Shop for gifts and holiday deals online 
Watch movies together or host a watch party
Let us help you stay connected with the ones you love.
Holiday Phone and Video Calls
Many of us have families that are off island or simply live in other countries. Our home phone line helps you stay connected with your loved ones whether they live in Cayman or elsewhere. You can pay as you go or choose one of our phone packages for under $10 per month. 
Better yet, when you sign up for a C3 Pure Fibre internet or TV service, you can automatically be set up with a C3 Pure Fibre phone line. We recommend considering a C3 Pure Fibre Bundle for the most cost-effective option. 
Please excuse the shameless plugging of our services, but it truly is the best way to save! We want you to have the best experience possible when it comes to staying in touch with loved ones and it is now easier than ever.
As you probably already know, programs for video calling are massively popular now due to the pandemic. You have used them for work meetings or virtual classrooms. They are also a great way to keep in contact with your family and friends. Many of these programs are quite user-friendly, making the hardest part of the process finding time in everyone's schedule. 
Once you do, we've put together a great list of fun activities to do for the whole family (friends are family, too!). 
Christmas Light Contest
Virtual Gingerbread House Competition
Online Scavenger Hunt 
Holiday Craft-making
Cozy Karaoke 
Ugly Sweater Party 
Holiday Fashion Show 
Jingle Bell Bingo 
And more!
There are tons of options and you can find more here or get creative and make your own. Cater your virtual Holiday event to the interests of those participating. Next, we'll discuss one of the more time-consuming (and sometimes stressful) holiday activities, Christmas shopping. Perhaps consider shopping online.
Online Christmas Shopping
During the holidays, shops are jam packed and the best items have usually been rifled through by early-bird shoppers, especially in Cayman. Perhaps you were not able to get to the shops in time, or maybe it slipped your mind. It happens. Our internet services make surfing the web for last-minute holiday shopping a Christmas breeze. 
As a 100% Caymanian owned company, C3 supports local businesses. Shopping online allows you to browse products of your favourite locally owned shops. Now, more businesses have e-commerce pages allowing you to buy online. Likewise, delivery is becoming a popular service offered by a growing number of businesses on the island. Buy with a click of a button and have your items delivered or prepared for pick up.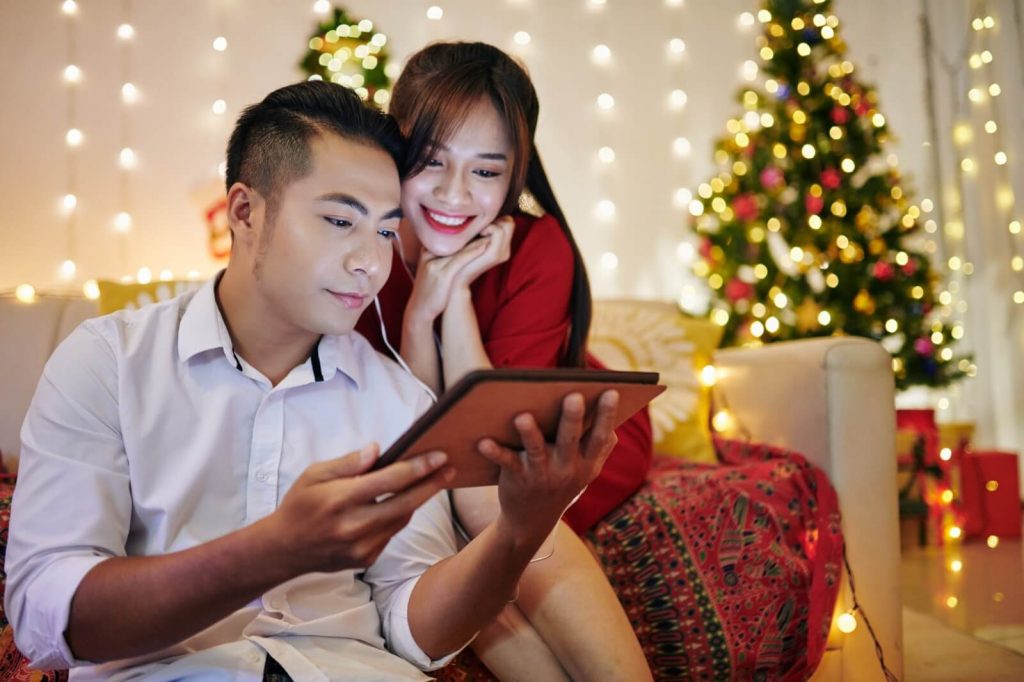 This Christmas, gift yourself the most enjoyable shopping experience and shop online. Browse through products, reviews, and deals – yes, all while in your favourite pajamas.
Holiday TV & Movies
Speaking of pajamas, what would this season be without holiday movies? You would have to be a real Grinch or Scrooge to not like a few of these festive, whimsical  (and often cheesy) classics. 
Get out of the computer chair and hop on the couch! Christmas movies are now being re-released on popular streaming services for HD viewing. Put that Ultra High-Definition TV to good use this Holiday season. Classics like Home Alone and How The Grinch Stole Christmas are now available to watch in 4K. A fibre optic TV connection will deliver that crisp picture without any buffering or pixelation. So if you're hosting this year's festivities, help bring holiday cheer with a Christmas movie for all to enjoy. 
If you're remote this holiday season, don't worry. As mentioned, we've got you covered. Try organizing a watch party on your preferred streaming service with your friends or family. The film will start at the same time for all participants. You can pause and chat during the movie, too. Here is a guide for hosting a watch party that we think you'll find particularly helpful. Get the popcorn ready and enjoy the show!
Merry Christmas and Happy Holidays, Cayman!
C3 brings the most innovative telecom services with unparalleled speed, reliability, affordability, and security to our community. Who is Cayman's best choice for WiFi internet, TV, and home phone? C3 Pure Fibre. 
Contact us today to learn more, email info@c3.ky or call 333-3333.